I am so glad you chose White Rabbit Photography for your newborn pictures! This newborn prep guide will help you prepare for your session. We want it to run smoothly so we can capture great photos of you sweet little one. A full session can take 3-4 hours.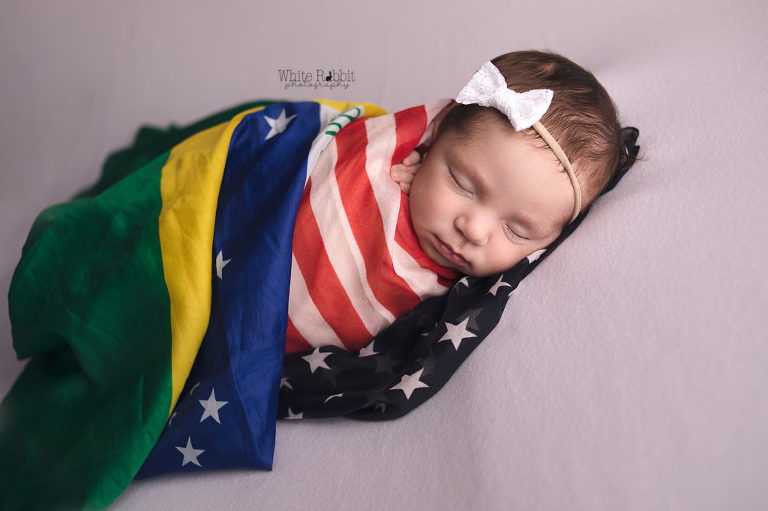 Before the Session
-Please read the entire newborn prep guide and contact me with any questions you may have.
-Try your best to keep the baby awake for 1 hour before you leave for the session. I understand this can be hard but it will help the baby be sleepy for the session. Try giving them a bath, playing with them, and putting lotion on them to keep them awake. 
-Dress your baby in clothing that zips or buttons and that does NOT need to be pulled over the babies head to be removed.
-Feed your baby right before you leave for the studio, even if it is not their normal feeding time. A full feeding will help the baby be nice and sleepy before the session.
What to Bring
-If you are not directly breast feeding, please bring extra milk or formula. Bring more than you think is necessary as the baby may need to be fed several times.
-Please bring a pacifier! This is VERY important in soothing the baby. Please bring one even if the baby does not take one yet.
-Please bring extra diapers, wipes etc. as I will be removing the diaper to do naked poses.
During the Session
-Sessions can take 2+ hours depending on the temperament of the baby so please plan accordingly.
-Parent and sibling shots will be done first. I suggest wearing solid, neutral colors such as gray, white, tan cream, etc. Try to avoid busy patterns and graphics.
**Keeping the studio calm and quiet is crucial to achieving the best photos of the baby. Once the parent and sibling shots are complete, I prefer that a spouse or partner takes any siblings to the park down the street while I finish the session. I do have blocks to play with in the studio if this is not possible and if the siblings are good at staying quite for a couple of hours**
-The studio is kept as warm as possible for the comfort of the baby so please dress accordingly.
After the Session
-You will come back for your reveal and ordering session about a week after your session. You will choose your favorite photos and which products you would like to display in your home or give as gifts.
-Once payment is received in full I will put the final touches on your photos and order your products. You will be notified when they are packaged and ready for pick up.
-I strive to provide a great experience for all of my clients. I LOVE receiving reviews on my Facebook page after you have received your products!